International Friends
Welcome!
International Friends offers help and friendship to our international neighbors. All nationalities are welcome. We offer many classes and activities in easy English, especially for international adults and children. One of our staff members speaks Japanese, and we have the ability to translate materials into Japanese, Korean, German, and Spanish when needed.
All the staff and team members are eagerly waiting to welcome our new friends and see our old friends again. We are so happy you will be with us. Have you arrived in America recently? Do you need information or some kind of assistance to begin your life here? Please call at 248-624-7676 ext.115 if we can help you in any way.
International Christmas Celebration - December 16
Watch the video of the International Christmas Celebation HERE or click the picture below: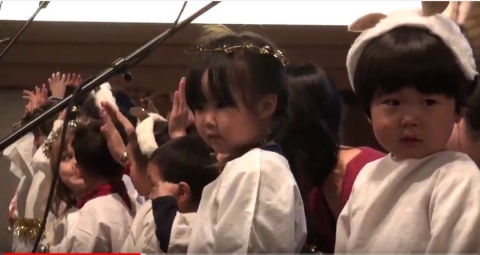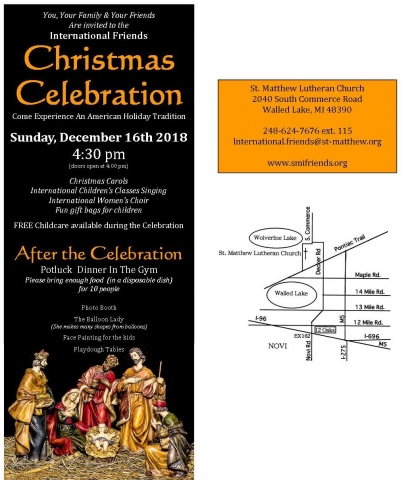 Download the invitation
HERE.
Welcome Information
2018-2019 Student Calendar
2018-2019 Class Registration
Registration Information - English
Registration Information - Japanese
Registration Information - Korean
Registration Information - Spanish
Past Celebrations
Personal Help
Personal help is available for emergencies and special needs. Please don't hesitate to contact us.
Quality childcare
While parents are in class we offer quality child care, $8 per family per day (click here for information)
チャイルド・ケアのヘルパーさん達に報酬を払うため、皆さんにもその一部を負 担して頂くようお願いしています。1回の訪問ごとに、8ドルのチャイルド・ケ ア料を頂いています(お子様が複数でも、1回につき5ドルのみです)。우리는 childcare workers 에게 지불하기 위해 여러분의 도움이 필요합니다. Childcare 에 한번 맡기실때 $8.00 입니다. (만약 2 명 이상의
Necesitamos su ayuda para pagar los trabajadores de cuidado de niños. Hay un coste de $8.00 por cada visita para el cuidado de niños.